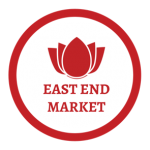 Local makers and vendors bare their wares. Take home a piece of hand-made and home-grown goodness from the East End Market.
IN ALPHABETICAL ORDER 
For more info, click on the logo.
Specializing in custom & personalized items, photo gifts and stationery, Campbell Creative products are the perfect gift or keepsake for all occasions, weddings, special events, and businesses.
CORNWALL, ON | www.campbellcreativeservice.ca
Farm & Forest is a Preserve and Soap business. A celebration and union of food and nature. Foraging, picking and sourcing food from local and sustainable growers is the cornerstone of what we do. On top of promoting our local economy to the best of our abilities we offer handmade product driven by passion and responsible treatment of nature. As we become more conscientious of what we put on or in our bodies we try to educate through products the amazing nutritional, medicinal and delicious applications that the wild has to offer; as well as to highlight the wonderful work our local farmers are doing. Consultations and workshops can as well be arranged through Farm and Forest. Contact us to learn more.
LONG SAULT, ON | www.farmandforest.ca
Hot towel shaves and quality haircuts in a guy atmosphere; big screen TVs, arcades & beer. It's as simple as that.
213 PITT STREET, CORNWALL, ON | www.kingsandlittleones.ca
Import Extra Virgin Olive Oil from our family olive grove in Kalamata, Greece.
INGLESIDE, ON | www.lambrosevoo.com
Man Soap = Organic soaps, beard oils and other grooming products for men.
AYLMER, QC | www.mansoap.co
Over the Moon designs is a company by Roxanne Rainville Illustrations that makes hand crafted items for baby and kid's rooms. Unique and one of a kind designs fit to transform any child's room into a magical and whimsical space.  From framed wall art, greeting cards and throw pillows to banners, flags and Wood wall hangings, Over the Moon's trinkets and treasures are bound to capture kids and parent's imagination alike!
VANIER, ON 
Samantha Grace Hess is an artist based in Cornwall, Ontario.  She creates a wide range of pop-culture watercolour paintings and prints.  She also works with acrylics to create scenic paintings of local nature.  Fine art doesn't have to be expensive, everyone deserves to own unique works of art they can enjoy.
CORNWALL, ON