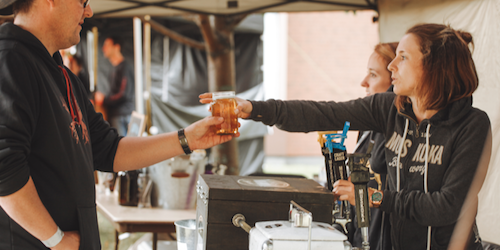 Tickets? Check. Crew assembled? Check. Outfit laid out? Check.
Now it's time to plan ahead and get ready for the day. We here at Summer Beer Fest want to make sure you are aware of all the different ways you can enjoy your day responsibly and arrive home safely.
First, right off the bat, the easiest and safest way to get to and from Summer Beer Fest is by using public transportation. Once again, we partnered with Cornwall Transit to offer free rides on Saturday June 24th to anyone attending the event. Simply show your ticket or bracelet. Please note the last buses will leave the downtown area (Pitt & Second) at 11:45PM.
If you're planning on biking down, we got you covered too! The Active Transportation Group of Transition Cornwall+ will be operating a FREE bike valet during the day. This is a cool initiative sponsored by Total Cyclery & Sports.
What about parking? We're glad you asked. We don't recommend you drive to get to and from the event, but if you must, be aware of the limited parking at the Civic Complex. Please note that illegally parked vehicles (i.e. on the grass) will be ticketed.
We know, we know, there are so many beers to sample. And listen, we want you to enjoy your day and sample a number of beverages, but we want you to do it responsibly. Did you know Cristill Rock supplying free water to all guests? Be smart, pay a visit to one of the hydration stations in between samples, and enjoy the day like a true champion.
If you're looking for a break for your liver, pay a visit to our Detox Centre. Recharge on some healthy organic juices or some iced coffees from our friend Rachel at Mindful Cookery. She'll also have some tasty healthy snacks for you to gnosh as well!
A post shared by Rachel Roy (@mindfulcookery) on
Did you travel from out of town? If so, we have a bevy options where you can lay your head after this awesome day. Check out the amazing deals that our hotel partners put together.