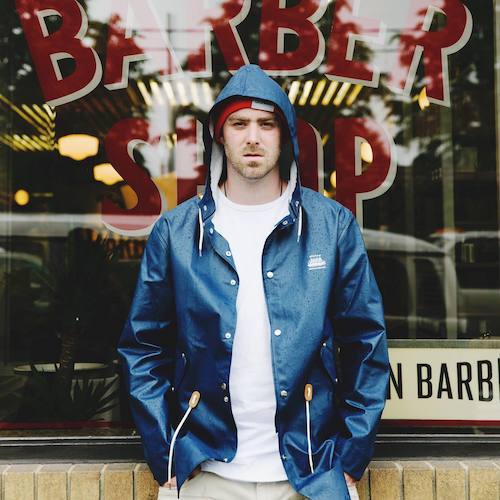 Two-time JUNO Award winner will rock the stage at Seaway Food Festival's SUMMER BEER FEST.
Cornwall, ON—The Seaway Food Festival, in partnership with Manchee Media and Limelight Entertainment, is proud to announce that two-time JUNO Award Winner, Classified, will rock the stage for SUMMER BEER FEST on June 24, 2017 in Cornwall, Ontario. Hot off the release of his 15th studio album "Greatful", available on iTunes and Spotify, the versatile rapper, musician, and producer continues to elevate his game, sharpen his word play, experiment with new sounds and perfect his flow.
"We're thrilled to have Classified headline the Summer Beer Fest concert," said Sébastien Manigat, Director of the Seaway Food Festival. "We knew we wanted a big, fresh, Canadian sound to help celebrate Canada's 150th anniversary. Booking Classified was the perfect fit."
Classified, born Luke Boyd, hails from Nova Scotia, and is known for refreshing honesty in his music and skilled rhyme-slinging.  His brand of rap is far from hardcore, as is his personal story. A dedicated family man, his on- and off-stage personas are both tinged with charisma and approachability. He continues to make waves across Canada and abroad with his trademark style and sound—a cross between hip hop and rock, complete with accompaniment from a six-piece band.
For this 3rd edition of the fest, Classified will be the final musical act to take the stage in Lamoureux Park, on the banks the Saint Lawrence River. He will close out a full-day of music, craft beer and fine food tasting, and fun summertime activities.
Tickets for Summer Beer Fest go on sale on March 8th at 1:00PM EST.
CLASSIFIED FAST FACTS
Multi-Platinum selling artist with single sales over 1 million units
Two-time JUNO Award Winner and seven-time JUNO nominee
Five-time Much Music Video Award Winner and 17-time Much Music Video Award nominee
Host of 2014 JUNO Awards
Has had two Top 10 radio singles
ABOUT SUMMER BEER FEST
The Summer Beer Fest is an interactive craft beer tasting event the celebrates the best of Cornwall and area. It is organized by the Seaway Food Festival. The award-winning event offers the opportunity to sample some of the finest beers in the region and the most delicious food from local restaurateurs. In addition, the fest showcases a new market zone with locally made products, craft distilleries, wineries, education sessions. Also on tap: the nightime concert feature with Classified headlining, and the Beer Fest Awards, honouring the best of the fest.
ABOUT SEAWAY FOOD FESTIVAL
The Seaway Food Festival is an offering and online community founded by BASTION Hospitality Inc. in 2014. The initiative was created with one purpose: connecting our community with local restaurants, producers, artists, and breweries. Through the Seaway Food Festival, we have created events—like SUMMER BEER FEST—to shine the spotlight on our region's diversity and dynamism and offer a fun and socially engaging community platform.
ABOUT MANCHEE MEDIA                  
Manchee Media is a Sarnia-based event, music, video, promotions, branding and artist booking agency. It is headed by Stuart Manchee, who also owns of The Station Music Hall, Sarnia's premiere concert venue and nightclub. Manchee is an expert in multimedia business,marketing, brand management and promotions and has worked closely with the largest music and artist agencies in North America.                                                        
ABOUT LIMELIGHT ENTERTAINMENT
Limelight Entertainment is a Division of Limelight Music and Arts Academy, which specializes in marketing, promotions and artist bookings for corporate and private events including concerts, professional wrestling, festivals, weddings, pubs and nightclubs. Based in Cornwall, Ontario, owners Davey Bedard and Jason Mitchell are first and foremost music lovers that have built their careers by bringing some of the most exciting Canadian acts to their community.